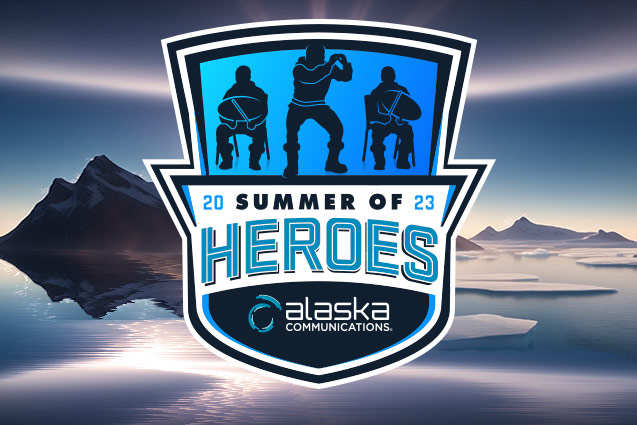 In 2023, Alaska Communications received dozens of nominations for outstanding youth who are making a difference in their local communities. This year, we are proud to highlight six heroes. Each honoree received a $2,000 scholarship and recognition in their local community.
The 2023 heroes range in age from 11 to 17 and hail from Anchorage, Juneau, Kotzebue and Palmer:
Dalton Ante, 11, Anchorage
Shawn Carter, 16, Kotzebue
Elizabeth Djajalie, 17, Juneau
Aaron Harkley, 17, Anchorage
Josephine Herbert, 16, Palmer
Noah Victoriano-Cruceta, 13, Anchorage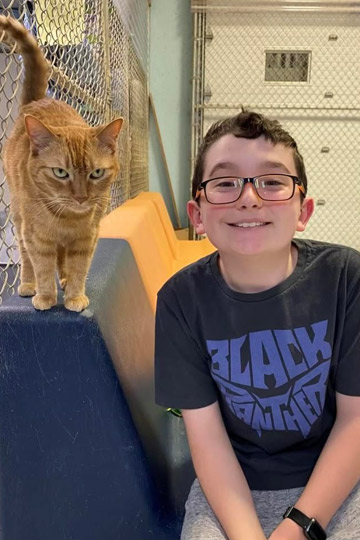 Dalton Ante is a super volunteer at the Alaska Humane Society, a non-profit organization whose mission is to rescue, rehabilitate and rehome cats in Alaska. However, what sets Dalton apart is that he is the society's youngest volunteer and often goes above and beyond traditional volunteer expectations.
With more 100 cats at the Anchorage shelter, and new ones coming in regularly, it can be hard to keep track of who is who. Dalton takes the time to learn each individual cat's name and personality. He photographs them and then uses the images, along with fun messages he creates, to promote their adoptions. He has constructed a resting structure for the animals and received specialized training to help care for cats who need special considerations. Rather than having an 11th birthday party, Dalton instead chose to use the special day as a trigger to fundraise for the society. What started as a $50 goal ended up raising more than $2,200.
Society staff say Dalton is such a unique volunteer, given the maturity and compassion he exhibits at a young age, that they promoted him to be the shelter's "Young Purrson Representative." His compassion and positive energy are contagious and his dedication to a cause is admirable.
Dalton will attend sixth grade at an Anchorage elementary school in the fall.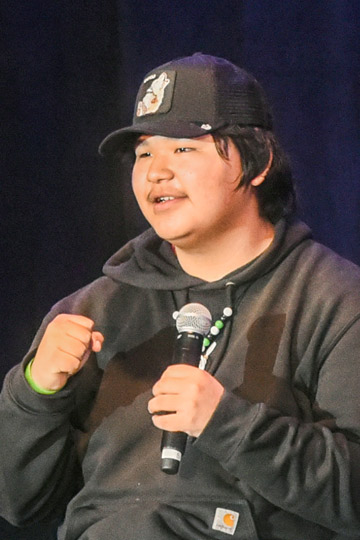 Shawn is an advocate for his rural community of Kotzebue. Shawn is part of Kotzebue's youth traditional singing, dancing and drumming group. He was invited on a trip across the country to showcase his indigenous culture where he used his voice to advocate for the youth and elders in his community. This advocacy led him to participate in an Indigenous youth panel where he had the opportunity to give his perspective to more than 300 people from around the country.
Following that trip, Shawn continues to step forward and develop his leadership skills in an effort to make real, positive change in his community. He is now representing Alaska youth and speaking about the impacts of climate change in our state, including at the Alaska World Affairs Council. Through a number of engagements, he's using the power of his voice to advocate for those who are unable to advocate for themselves.
Shawn engages with young members at the Boys & Girls Club and teaches them about their Inupiat culture. He helps them make drums out of animal skins and takes pride in performing his traditional songs.
Shawn will attend 11th grade in his community of Kotzebue this fall.
Elizabeth Djajalie
Juneau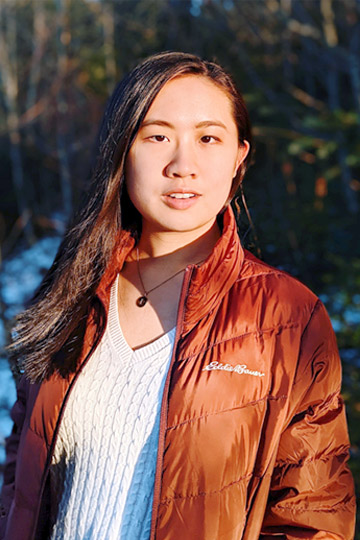 Elizabeth makes positive contributions to the Juneau and Alaska community, particularly in the field of science, technology, engineering and math (STEM). She notices problems facing the local and global community, and takes action to develop solutions through her passion for science.
Elizabeth worked with local businesses and researchers to develop a solution to plastic pollution and created biodegradable, bioplastic cups made out of Alaska seaweed.
As a high school student in Juneau, she founded the Enigma Math and Critical Thinking Club to create a place where students from all high schools in town could collaborate, improve their problem-solving skills, tutor their peers and access national math competitions not previously accessible to local students. Elizabeth is president of her school's Future Women of STEM club and she launched a podcast which invites women in STEM fields from the community to speak about their career paths and experiences. Elizabeth leads the club's community outreach efforts and designs educational STEM games to bring to local elementary schools. She also serves as her school's student representative on the Juneau School District's Board of Education.
Elizabeth is working to increase funding and participation in the Alaska Science and Engineering Fair, a non-profit organization. Her efforts have resulted in increased funding for the fair and more student participation. In fact, Elizabeth is redirecting her scholarship funds through the Summer of Heroes program to the Alaska Science and Engineering Fair as a donation.
She can be found singing the national anthem at special events and leading community music performances as the concertmaster of Juneau String Ensembles.
Elizabeth will be a senior in high school this fall.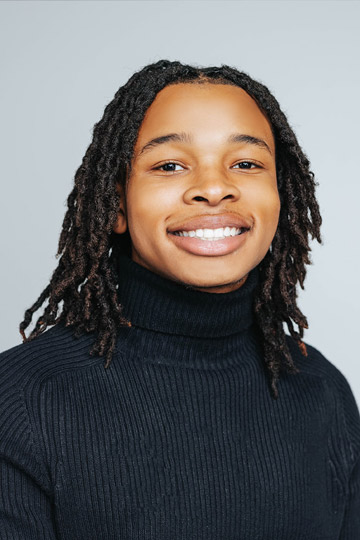 The way Aaron Harkley carries himself, his charm and ambition, and his volunteerism make him stand out among youth. He's been a part of the Mountain View Boys & Girls Club in Anchorage for 11 years. In that time, he's volunteered more than 250 hours to the club helping develop youth programs, tutoring, playing games with members, mentoring younger children and even creating highlight videos for some of the members who play sports. He is constantly looking for ways to help out and improve things throughout the Clubs. Aaron's nominator said it can be hard for a teen to go against the usual stereotypes they grew up with but Aaron does it with so much poise and passion. Aaron was named Youth Of The Year for Boys & Girls Clubs Alaska and is a prime role model for the youth in his community. Club members love Aaron and love learning from him.
Aaron will attend the University of Alaska, Anchorage in the fall for general education and then attend Full Sail University with plans to become a video director.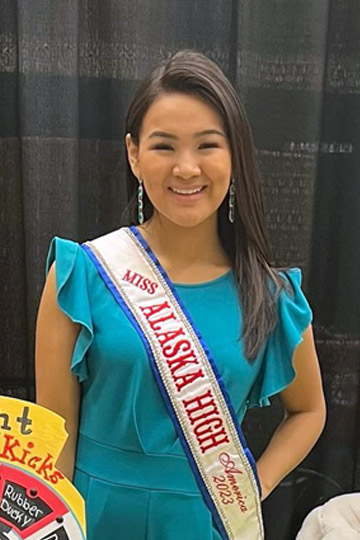 Josephine Herbert endured a traumatic upbringing until she was able to start again with a foster family in the Mat-Su Valley. Despite her challenging past, she's never let her situation hold her back and has worked diligently to catch up on her education and activities that are afforded to typical teenagers. She's strengthened her confidence and communication skills.
She enjoys helping others however they need it, even if it's to be a listening ear. She's an advisor for girls who are struggling in family relationships, feel alone as they navigate the emotions of being a teenager or are subjected to a bad situation. Josephine consistently makes sure she is available when it is needed the most.
Her actions and support to others at school won her the title of Miss Alaska High School. She serves as the drum major for the Colony High School band, National Honor Society member, cheerleader, student government representative and Key Club member. She also was inducted into the national Tri-M Music Honor Society.
Josephine volunteers her time to support multiple non-profit organization fundraisers. She was an organizer for the annual Trend Alaska Fashion Show to support Let Every Woman Know. She has served meals at special holiday celebrations and has helped raise funds for her school band.
Josephine wants to inspire others with her story and show it's possible to overcome significant challenges. She is using her experience in the foster system to empower girls to have their own voice, just as she has learned herself. She continues to take every experience and transform her story to be even better. Josephine will begin 11th grade at Colony High School in Palmer this fall.
Noah Victoriano-Cruceta
Anchorage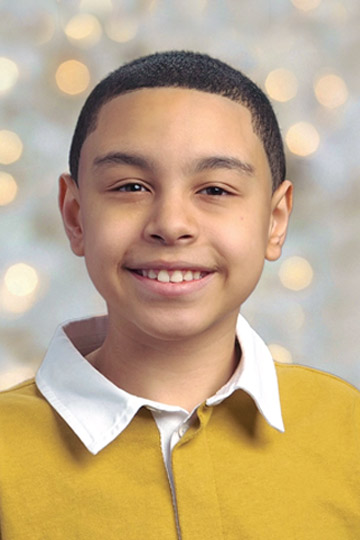 Noah has a strong passion for service and dedicating his time to making a positive impact in the world.
His nominator said heroism is not just about performing grand acts of bravery or selflessness, but also about doing what is right and good in the small things that make a big difference and those are qualities shown by Noah on a daily basis.
Noah demonstrates leadership qualities by taking the initiative to identify a problem and taking steps to solve it. After noticing many of his classmates didn't have equitable resources, he raised funds for his school's physical education program. Over the summer, he completed yardwork to earn money to purchase school supplies for students in need. In addition to raising money, he also makes time to listen and provide support to those who may need it.
Noah will begin eighth grade in the fall at an Anchorage middle school. He eventually would like to pursue a career in law enforcement to continue serving and making a positive impact on his community.
Get

Involved
Join the Boys & Girls Clubs-Alaska