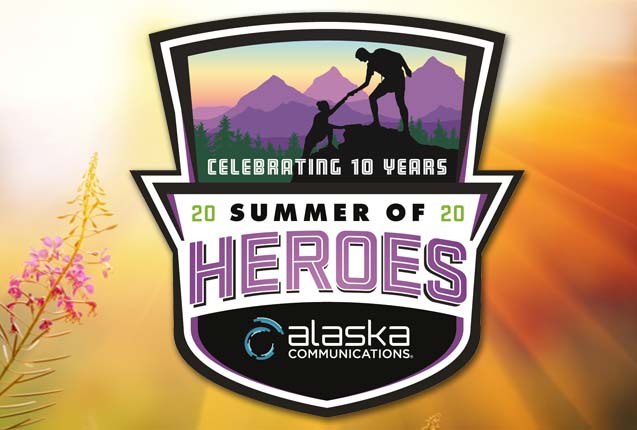 In 2020, Alaska Communications received numerous nominations for outstanding youth that are making a difference in their local communities. Each winner received a $1,500 scholarship and a recognition celebration in his or her community.
The 2020 honorees are:
Asya Gipson of Eagle River
Joy Martin of Anchorage
Rosalie Cortes of Anchorage
Ted (Emily) Tedrick of Anchorage
Trevor Morgan of Aniak
Zoe Nelles of Palmer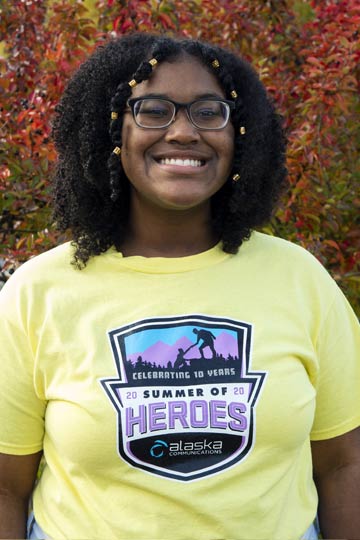 Asya is known for supporting her peers and volunteering to help others every chance she gets. As a senior at West High School, she supports the Interact Club, National Honor Society and Freshmen Congress. Asya is president of the Poetry Rap Club and, this year, she founded a new school club called The Black Experience to educate and promote anti-racism activism in Anchorage and beyond. She helps collect food donations for families in need, holds bake sale fundraisers, volunteers at elementary schools, mentors high school freshmen and gives peer advice to middle school students. Asya has a 4.26 GPA and has won several state championships in Drama, Debate and Forensics, Poetry Out Loud, and foreign language declamation contests. She regularly encourages her peers to write as an outlet and promotes releasing emotions in a healthy capacity by "writing it out."
Outside of school clubs and activities, Asya is helping her community navigate the coronavirus pandemic. She jumped into action as a founding member of Masked Mission AK. She makes and donates masks to those in need, creates informational videos with tips to reduce COVID-19 risks and writes blog posts to keep the public up to date on the organization's efforts.
Asya constantly strives to improve the lives around her. She plans to be a first-generation college student and work toward a degree in human/social/political sciences in order to advocate for people who may not be able to speak up for themselves and serve those who face roadblocks to success, like underprivileged teenagers.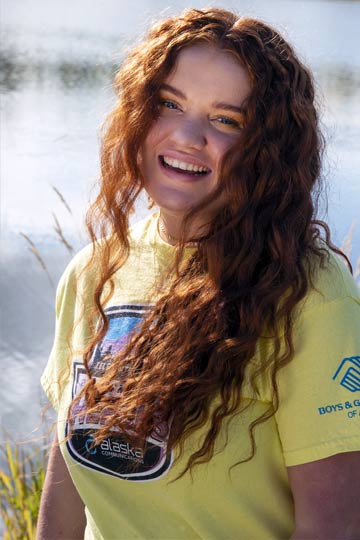 Joy is described as an inspirational young woman who exudes determination to be a force for good in this world. She has a heart for the homeless and invests many hours each week on the front line, not only to serve them but also to connect with them. When life has them down, Joy helps the homeless see the value in themselves. In the past four years, Joy has volunteered for more than 1,000 hours at Hope Church which supports the homeless population in downtown Anchorage. She volunteers at the women's shelter in the Hope Center by assisting with laundry, serving dinner and other hospitality duties such as providing bedding to residents. Joy is a near-daily volunteer at the Downtown Soup Kitchen. During the lunch hour, she provides music for the clients as a talented pianist, guitarist and vocalist. In addition to Joy's tireless work with the homeless, she also serves on the worship team for the Muldoon Community Assembly.
Joy makes an effort to show those who are typically shunned members of society that they are loved, make them feel appreciated; with her words and actions, humility and respect are always present. Joy serves others in whatever capacity is needed and inspires those around her to be better.
After high school graduation, Joy plans to attend the University of Alaska Anchorage and work toward becoming a certified public accountant. She plans to focus on being close to family, her church and continue volunteering to support the homeless.
Rosalie is always looking for ways to help others and spread positivity into their lives. She helps young girls build up their self-esteem and work toward achieving their dreams. Through her volunteerism at Girl Scouts of America, she empowers girls to persevere through life's challenges, never give up and keep working toward their goals. Rosalie brings that same support and encouragement to her volunteer roles at Special Olympics and in her church. She has a knack for patience with youth, and those with disabilities and special needs. Rosalie knows they can sometimes feel insecure or unsure about what life throws their way. She doesn't want those feelings to define them, so she encourages their use of strength and courage to turn negative situations into positive ones. Every day, Rosalie makes an effort to empower others to achieve and succeed in everything they do. She does this through acceptance, love, help and encouragement.
At 17 years of age, Rosalie is taking both high school and college courses; and hopes to earn her high school diploma and associate degree concurrently. She plans to continue her volunteerism in college while she studies for a degree as a special education teacher or speech therapist to help those with special needs accomplish their education successfully.
Rosalie is a 2020 youth hero selected from the Alaska Communications' Employee Program. Her stepmother, Yazmin, is a senior business analyst with the company.
Ted (Emily) Tedrick
Anchorage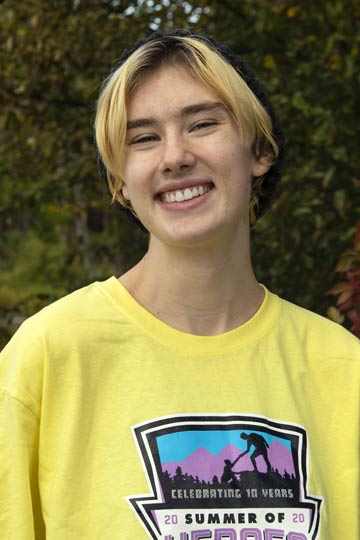 Ted's contribution to the community is best seen inside the walls of the courthouse. As a member of the Anchorage Youth Court Bar Association, Ted has volunteered hundreds of hours in the courtroom advocating for peers who have committed minor offenses. Ted served as a youth judge on the AYC Board of Directors, chief judge of the Bar Association youth leadership team and as a representative for United Youth Courts of Alaska. Ted's leadership helped launch a peer mentorship program that helps new youth advocates make friends in the volunteer community and learn how to advocate for others.
Ted also volunteers regularly at church and in local theatre troupes and plans to continue doing so throughout college.
Ted is attending the University of Alaska Anchorage, the first step toward a degree in Psychology. Ted hopes to become a defense lawyer in a local public defender agency to be a voice for those who need it most.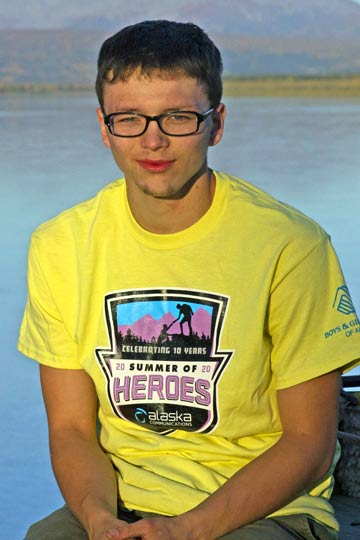 In the remote village of Aniak, Trevor Morgan grew up learning to help his peers and elders when they need assistance. He's known in his community for his friendliness and respect for others. When a tragic event happened in his community, Trevor's instincts of helping those in need took over.
On May 28, 2020, Trevor was the first person on scene when a plane crashed into a large pond in a gravel pit near Aniak. He and his friends were headed home when they spotted the aircraft in the frigid water with four people inside. Trevor and another youth helped two injured passengers out of the water and drove them to a nearby medical clinic. The other youth stayed on scene until emergency responders arrived.
Trevor plans to get involved in his community's emergency rescue team and eventually with the fire department.
Alaska Communications also recognizes the heroic efforts of four other youth who joined Trevor immediately following the plane crash. A donation is being made to the Aniak Community Library in their honor.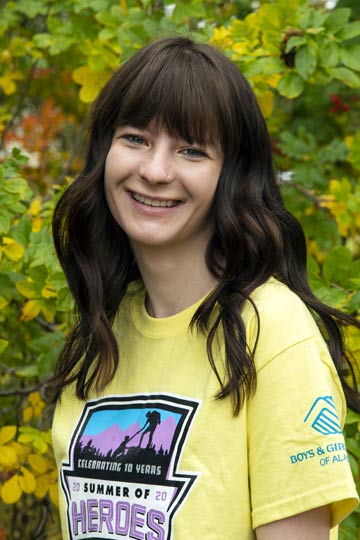 Zoe has an incredible ability to look at situations, discussions and real-world problems with an open mind and heart. She's a natural teacher and mentor, a valued member of National Honor Society, and regularly provides service to her community. Zoe championed a project that provides meals for students who don't have reliable food on the weekends. Dubbed the Sandwich Project, Zoe single-handedly did fundraising, sought grants and donations, and garnered support from around the state to get the program started.
Once the program got underway, Zoe went from making six meals a week using her own ingredients to more than 80 meals a week and a $2,000 per month program to feed hungry students in five schools. While she never met the students in person due to confidentiality laws, her compassion never waivered. She knew kids were suffering and she made food for them. Through the pandemic, she shifted plans and jumped additional logistical hurdles to ensure students received help when they needed it.
Now that she's a freshman in college, she mentored younger students to take over the Sandwich Project and make it sustainable for years to come. While at the University of Idaho, she has plans to connect with local community groups and start Sandwich Projects at schools around her university.
Those who know Zoe are confident she will change the world with her hard work and commitment to serving those less fortunate than herself.
Get

Involved
Join the Boys & Girls Clubs-Alaska