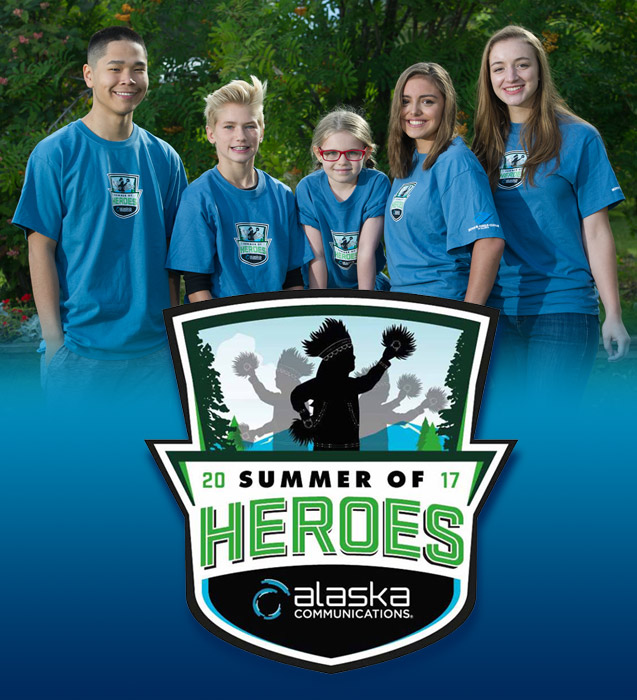 In 2017, Alaska Communications received numerous nominations for outstanding youth that are making a difference in their local communities. Each winner received a $1,500 scholarship and a trip to the Alaska State Fair.
The 2017 honorees are Aunika Alch of Anchorage, Mae'jon Dar Cawyer of Anchorage, Wilton Charles of Toksook Bay, Addie Epler of Ketchikan, Quincy Taylor of Anchorage and Avery White of Anchorage.
Thank You to our 2017 Guest Judges!
Erin Kirkland, AKontheGo.com
Jill Dutton, Anchorage Youth Development Coalition
Alana Humphrey, Boys & Girls Clubs - Alaska
Jennifer Brown, Boys & Girls Clubs - Alaska
Melissa Knolle, U.S. Senator Murkowski
Becca Moore, Iditarod Musher
Ramey Smyth, Iditarod Musher
Elizabeth Pierce, Quintillion
Rebecca Savidis, Foraker Group
Thomas Azzarella, Alaska Afterschool Network
Addie Epler
Age 7 — Ketchikan
For being only seven years old, Addie Epler has already had a big impact in her community. Addie's spirited and altruistic personality is well known in Ketchikan, and her community service projects set a positive example for those around her.
One of her most remarkable achievements is a project the local newspaper dubbed a "crusade against splinters." After getting a bad splinter at her neighborhood playground, Addie wrote letters to local government, made a video for social media and spoke in a borough assembly meeting about the need for park renovation. To ensure her project was a success, she enlisted the support of friends and family to help clean up the playground, and applied for grant money to cover the cost of replacing the equipment. After months of hard work, Addie was able to cut the ribbon at the playground's grand re-opening ceremony. Addie's efforts were recognized nationwide when Disney Channel featured her project in a commercial about young people who are active in their communities.
Each year, Addie chooses to tackle one significant project in her community. This year, Addie combined two of her favorite activities, eating ice cream and reading, by hosting the Ice Cream for Breakfast event at the public library. In addition to turning ice cream into breakfast food, Addie handed out hundreds of free books to promote literacy for children. Her event turned out to be the most highly attended event in the public library's history.
Following the breakfast, Addie rallied several other kids to take books over to the Pioneer Home and read aloud with the elders who couldn't make it to the event. Addie made lasting friendships with many of the elders during the event and now visits the Pioneer Home once a week to help out with Bingo Day.
For Addie, being a hero simply means doing the right thing. At just seven years old, she's accomplished more than most adults. Addie will continue serving those around her and, once she's a little older, pursue her dream to become President of the United States.
Aunika Alch
Age 16 — Anchorage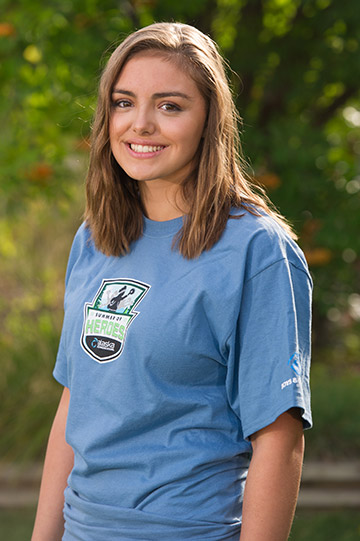 Aunika Alch decided at a young age that she wanted to shine light into the lives of those struggling, particularly those facing homelessness in Alaska.
Discouraged by seeing so many people less fortunate than herself, Aunika launched the local chapter of the national organization #HashtagLunchbag, a nonprofit that asks volunteers to help donate to and help prepare bagged lunches for anyone who needs a meal.
The Anchorage chapter that Aunika formed is appropriately named #HashtagLunchbagANC. The donated lunches include a sandwich, fruit, dessert and water. In addition, each lunch bag comes with a handwritten note reminding the receiver they are important and loved.
Aunika markets the monthly events on social media and through direct outreach via phone and email. Each month, 50-70 volunteers meet at her family's gym, Arctic Gymnastics, to make and pack hundreds of bagged lunches for distribution to the homeless. Over the 18 months, #HashtagLunchbagANC has supplied 4,300 meals for people in the community.
Aunika has also reached out to local Anchorage businesses to help facilitate donations of food, gloves and hats to those in need. She also donates lunches to organizations such as Bean's Café, Brother Francis, Henry House, Safe Harbor Inn and Catholic Social Services.
Aunika's goal is to expand her current program into the surrounding communities in Alaska and to increase the number of lunches the organization produces.
In addition to volunteering, Aunika works at Arctic Gymnastics and finds time each day to play on the trampoline in the gym.
Avery White
Age 13 — Eagle River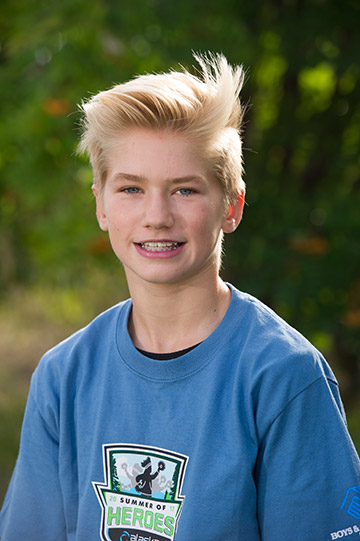 In just a few months, Avery White has racked up more than 260 hours of volunteer work. He believes a hero is someone who wants to work hard and improve the community, so he does just that. From working with children to supporting the local animal rescue, Avery goes above and beyond the call of duty to help others in his community.
During summer, Avery volunteers at the Eagle River Boys & Girls Club several times a week to lead other Alaska youth in games, help them with their homework and teach them about problem resolution. He's established himself as a natural leader for the younger children.
Avery even spends his summer vacations helping others. This summer, Avery forfeited several of his vacation days to volunteer at a hospital. He supported a Spaghetti Feed event to help provide meals and general health screenings for the less fortunate members of the community. The entire event was free of charge for participants and helped raise awareness about undiagnosed health issues such as pre-diabetes. Additionally, Avery hosted a Just Dance booth for hospitalized children and other community members to have some fun while they endured difficult medical situations.
Avery also has a passion for helping animals. After a Chihuahua terrier mix was rescued by Alaska Animal Rescue Friends (AARF), Avery worked diligently to foster the dog for two months. At first, the dog was terrified of humans, but Avery was undeterred. He walked the dog twice a day and carefully subdued his anxiety. "Hawk" is now a permanent member of Avery's family who now loves to cuddle with his favorite human. Avery plans to continue fostering dogs through the AARF program.
As he enters eighth grade, Avery hopes to break his school's record for volunteer hours in the National Junior Honor Society. In addition to his service work, Avery has also maintained a 4.0 GPA. He hopes to join the Air Force Academy for college and serve the country as a member of the military.
Mae'jon Dar Cawyer
Age 17 — Anchorage
Mae'jon Dar Cawyer fell in love with telling stories after listening to her dad recite fictional narratives to entertain her as a young girl. She often chimed in as he was telling them, adding various plot details to his stories to round them out.
A few years later, Mae'jon took this passion for storytelling to new heights by becoming the youngest published Yupik Eskimo author in Alaska. At age 10, she channeled her passion for wildlife preservation, particularly bald eagles on the Prince of Wales Island, into publishing her first book, "Bald Eagles of Alaska," which includes facts about bald eagles. By age 12, Mae'jon had already published her second book, "Talon's Adventure: The Beginning," which tells the story of a retired sled dog—based on Mae'jon's own dog—who is no longer able to pull sleds. Both of Mae'jon's books are available for sale on Amazon.
Mae'jon, who describes a hero as someone who helps those in need, uses the money she receives from these Amazon book sales every year to purchase additional copies, as well as stuffed animals, that she distributes during the holidays to pediatric patients at the Alaska Native Medical Center. She also donates her time to read to teens and adults with disabilities, including her own sister who is visually impaired.
Over the past couple years while she has been a high school student at West High School, Mae'jon has held a seminar for Alaska Native students to explain how she began writing and how she's gotten her books published. A teenager who is very proud of her Alaska Native heritage, Mae'jon serves as an inspiration for other children in her community, who she encourages to also write books about their experiences.
After high school, Mae'jon plans to attend nursing school and eventually become a veterinarian—transitioning her passion for animals into a full-time career. In the meantime, she will continue promoting the conservation of Alaska wildlife and helping people with disabilities.
Quincy Taylor
Age 17 — Anchorage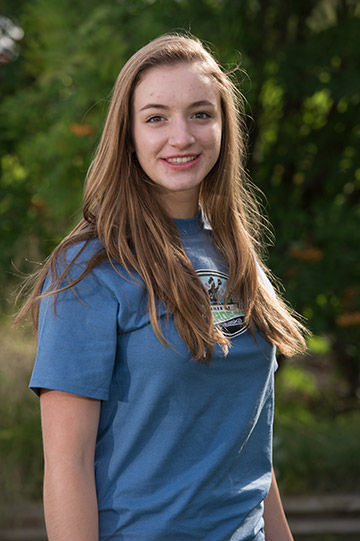 When Quincy Taylor was appointed as the student member of the Anchorage Municipal Library Advisory Board (LAB) in December 2016, she had no idea that this role would transform her into a community hero.
During a board meeting, Quincy learned that the library's computer-use policy didn't ban the viewing of inappropriate websites on the library computers. Dedicated to ensuring a safe learning environment for her friends and younger sisters, Quincy wrote a petition to prohibit explicit materials at the Anchorage Loussac Library and spoke with local media to promote it. She then presented the results of the petition to the LAB, sharing the community's views. Consequently, the LAB voted unanimously to update the policy and prohibit viewing of inappropriate content on the library computers.
Her dedication to the community doesn't end there. After volunteering one day at the Kids' Kitchen, a nonprofit organization dedicated to providing free, nutritional meals for children, Quincy encountered a 6-year-old girl at the Spenard Recreation Center who didn't have anyone to help her with her homework. Inspired to help other kids facing the same struggle, Quincy developed an afterschool tutoring program for underprivileged kids at the rec center. Quincy also designed an online sign-up for Kids' Kitchen volunteers to ensure there was no shortage of helping hands.
Recently, she and her friends mapped out 100 acts of service to complete within one week. The services included writing encouraging letters to their loved ones, putting grocery carts away in parking lots, leaving inspirational messages in unexpected places, picking up trash in parks, weeding at her church and more.
Quincy hopes to attend a military academy for college, where she plans to major in electrical engineering and become a pilot. Eventually, she'd like to hold a position in public office, where she can support and write legislation to increase the quality of life for others. Quincy plans to continue taking part in events and programs in her community and church, and serves as a role model to others.
Wilton Charles
Age 18 — Toksook Bay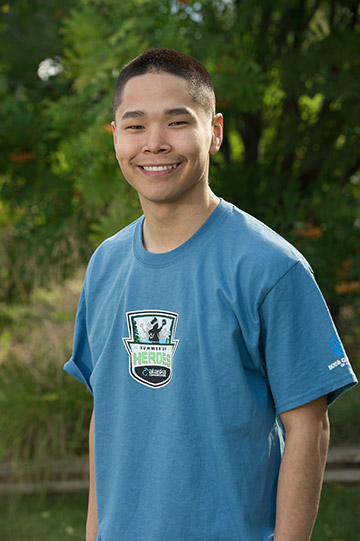 Though many people notice issues plaguing their communities, it takes a true hero like Wilton Charles to take actionable steps to help others in need.
Recognizing that suicide is a major issue in his home village of Toksook Bay, Wilton began working with the American Foundation for Suicide Prevention (AFSP) in eighth grade. That year, he helped to organize the International Survivors of Suicide Day at Nelson Island School.
A few years later, he continues to advocate for those struggling with suicidal thoughts or actions in many ways. He works with local community leaders in Toksook Bay, as well as state government officials, to raise awareness for this issue and help to develop solutions. In March, he was invited to Juneau to speak about the suicide epidemic in rural villages at the inaugural State Capitol Day for the AFSP Alaska Chapter. Upon his return, he shared a presentation about his work in Juneau with his classmates, becoming a positive role model for several younger children. Next summer, he will be traveling to Washington, D.C. to meet with Alaska Sens. Lisa Murkowski and Dan Sullivan, as well as Rep. Don Young.
Beyond his work on this sensitive community issue, Wilton is an outstanding student and leader at school, serving as the president of student council; becoming the 2017 Native Youth Olympics kneel jump champion; and participating in basketball, volleyball and Yupik dance. One of his teachers says he is "constantly a positive light in the community" and always quick to help out.
Wilton hopes to leave Alaska for college, ideally attending Kansas State or Arizona State to study political science—a major he was inspired to pursue after returning from Juneau. He has a desire to travel and experience new cultures, but says that he will always come back to Toksook Bay and consider it his home. Regardless of where he attends school, Wilton is dedicated to continuing his fight for suicide prevention and plans to serve as a life-long advocate and resource for people seeking help.
Get

Involved
Join the Boys & Girls Clubs-Alaska