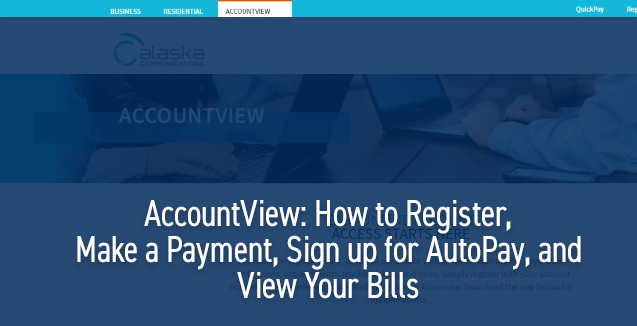 The following detailed how-to instructions for AccountView, the Alaska Communications online billing and account management system, will assist you in managing your account with us.
If you already have an AccountView profile, skip to the section where you need assistance.

ABOUT YOUR CPNI
CPNI stands for Customer Proprietary Network Information (CPNI), and references specific information we have based on our relationship with you, as your service provider. This information includes details about your service(s) you purchase from us including type, location, and amount of use. How CPNI is used and enforced is regulated by the FCC.
For your privacy, your CPNI privacy code is required to display your account information, including bills, if your privacy code is provided. This is a (four-digit) pin that was sent to you via your address of record (email or mailing address if no email was provided) after signing up for service with us. If you have not received this code, or do not currently have your CPNI privacy code, please contact us at 855-907-7015.