Secure, Reliable Healthcare Solutions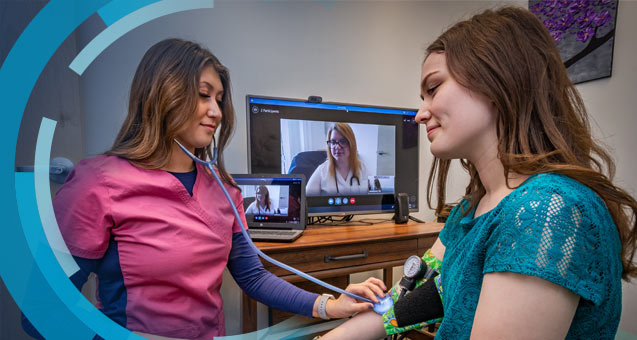 Our team of industry experts are dedicated to provide you with custom built technology solutions specifically for private practices, major medical centers, and professionals working in rural healthcare.
At Alaska Communications, we understand the importance of data security and privacy. That's why we work one-on-one with you to meet your heathcare organization needs, whether it's building a comprehensive business continuity plan or using multi-layer defense to address cyber security risks, our experts have you covered.
Delivering Enhanced Patient Care

With a Trusted Connection

We provide healthcare organizations with technology needed to improve patient care through collaborative tools, interactive technologies to engage patients, telehealth capabilities, and much more.
Cyber Security
Our certified team knows the ins and outs of operating cost-effective managed security solutions while keeping pace with technology changes. With our Managed IT Security integration and incident response service, we help you maintain global security and uphold policy compliance.
Managed I.T. Services
Our team of IT experts work with you to custom design, build, and manage your IT services, making us your single point of contact for all your IT needs. We provide a scalable set of healthcare services from full service-desk support and around-the-clock IT monitoring to proactive equipment maintenance and vendor management.
Telehealth and e-Medicine
Transforming collaboration through healthcare technology, we bring people together face-to-face from virtually anywhere. As partners of healthcare leaders, we share a common goal to connect the world through hardware, software, service implementation, and training.
Operational Efficiency
As a Microsoft Gold Partner, we provide proven and powerful tools, such as Microsoft Office 365, Teams, Word, Excel, OneNote, and many more healthcare collaboration and management tools.
Professional Learning
Together with our nationally recognized partners, we routinely host and facilitate professional learning events and training opportunities that empower Alaska healthcare IT leaders to achieve more.
Reliable Connectivity
Good business is all about dependability, and our Business Internet and data services are no different. You'll enjoy a dedicated line with individual connections, so speeds stay consistently fast.
Additional

Resources
Connect Multiple Locations